Create and edit report templates
You can create report templates to make it easier to run the same report multiple times. Templates contain saved search fields, values, display options, and a name.
Create a report template​
Report templates allow you to quickly run the same report multiple times without having to configure the search and display options each time.
From Practice > Reporting select the report type you want to use from the left sidebar
Select Create Report Template
Enter the Template Name
Select OK
Edit template search fields​
You can adjust the search fields and values used in your newly created or existing templates.
Confirm that the name of the template you want to edit is displayed beside Active Template

If not, select Use to open the template you want to edit.

Select the Search Fields tab
Expand the available search fields

Each report type has slightly different groups of search fields depending on the type of data you're reviewing.

Set the values and ranges for any fields
You can add and configure additional data sets for your report template by selecting + Add Data Set

Data sets allow you to run and compare multiple reports within one. Results are displayed in one tab per data set.


Select  on a data set tab in order to rename, clear, duplicate, or remove it.

Once you've made your adjustments you have the following options.

To run the report with your new settings, select Run or Export
To create your own copy of a shared report template with these changes, select Duplicate Template
To update your personal report template with these changes, select Save Template
Search templates you've created in advanced search are also accessible from the Search Fields tab.
To learn more about creating search templates here or in advanced search, see Creating Advanced Search Templates.
Edit template display options​
Before sharing or running your report, confirm that the display options are properly configured under the Options tab.
To learn more about the available display options, see Editing report display options.
Manage report templates​
Once you've created a report template it will appear in the list under Your Templates.
You can use the buttons beside each template's name to duplicate, rename, or delete it.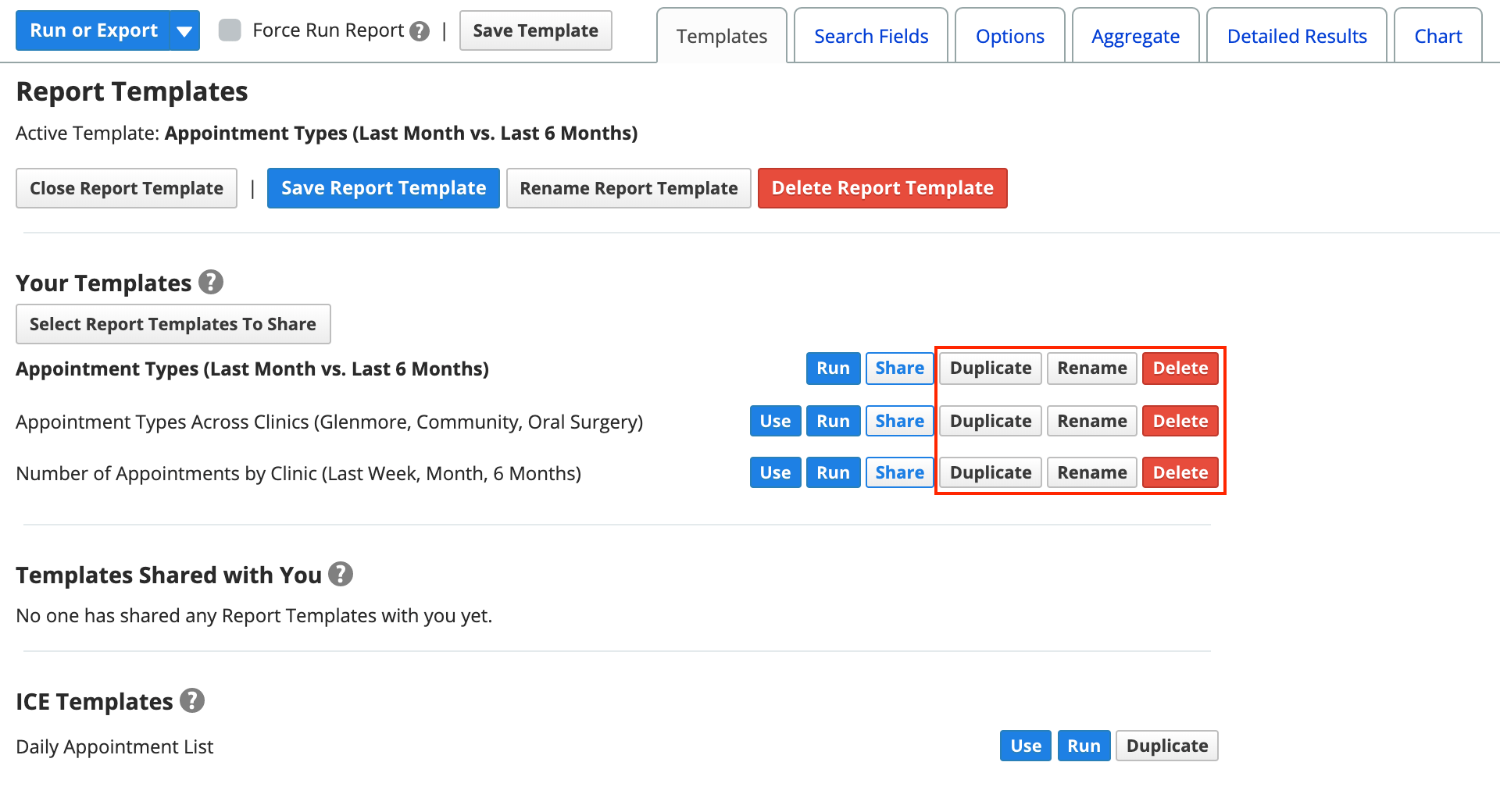 Duplicating a template can be helpful when you want to create a new report template that is similar to an existing one. It is faster than starting with completely empty search fields and display options.